What to Expect From Field of Screams Maryland's Haunted House and Trail Attractions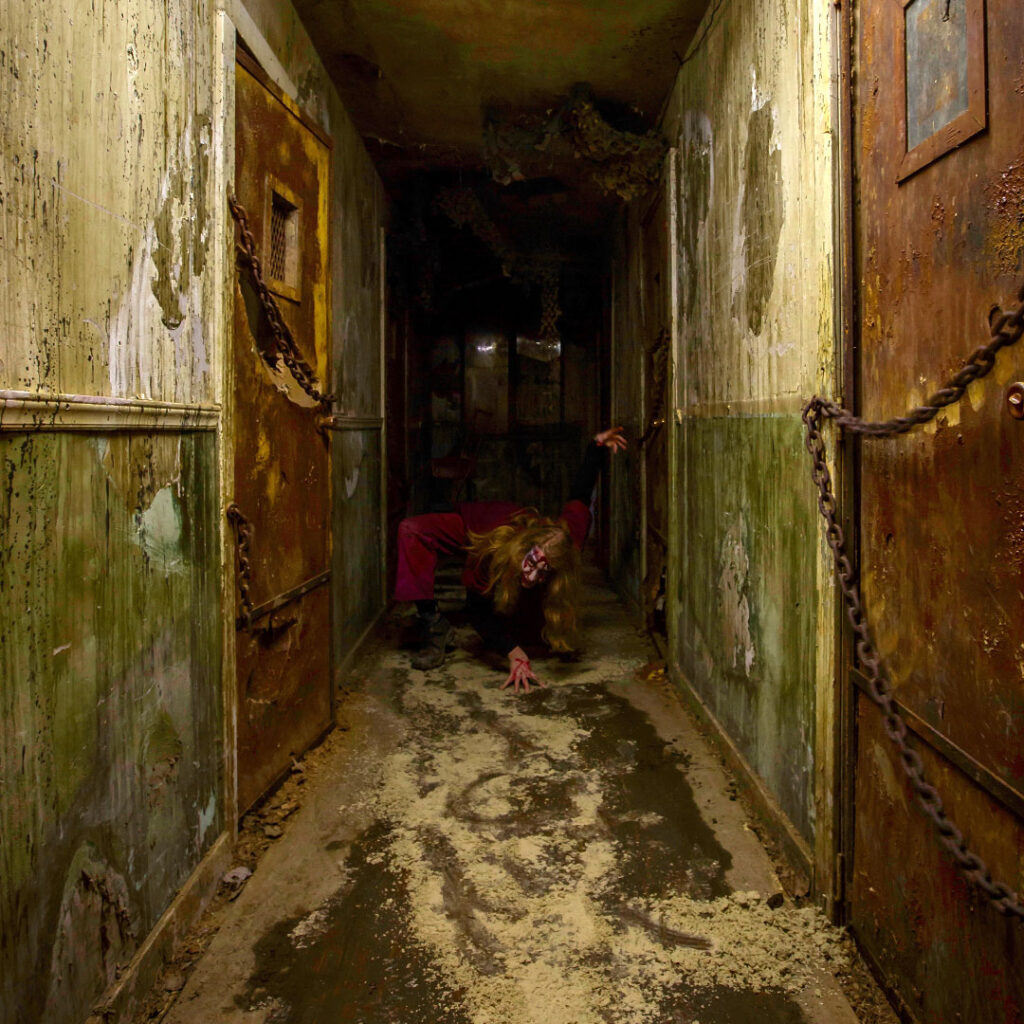 With Halloween approaching, a handful of seasonal activities have already begun. People are choosing creepy costumes, hanging spooky decorations, and searching for local haunted house attractions. However, you should make note of the differences between the haunted houses and trails. Popular spots can draw huge crowds, as these installations promise Hollywood-level scenes and scares, unrivaled thrills, and terrors few can imagine. If this is your first time visiting a haunted house, here are a few things to do ahead of time, including: its ticket policies, health protocols, and haunt offerings. Preparation is key to having a scream-tastic time!
People looking for an outstanding haunted trail and haunted house experience in the DMV region will find it at the #1 nationally-rated Field of Screams Maryland. Running from Sep. 25th through Nov. 6th, they are the most popular screampark throughout Maryland, DC, Virginia, and Delaware, which means they have multiple offerings in addition to a haunted house. Field of Screams Maryland has been operating for over 20 years, and this year, they have enacted Covid-compliant protocols to help keep attendees and staff safe. These precautions have allowed them to put together a terrifying experience that rivals those of any other attraction around the nation. Check their website and purchase your tickets today.
Below, we outline key details to help new and returning attendees prepare for this year's experience:
Ticketing
First, they have simplified their ticketing process to online ticket purchases only. You must purchase tickets online – there are no on-site sales. The Scream Pass, this year's only ticket, provides access to their Slaughter Factory Haunted House and their hour-long SUPER Haunted trail, which combines two trails into one. Reserve your preferred date and time soon as most nights were sold out last year.
When purchasing individual tickets, you'll choose a date and time slot for your visit. This "dated and timed" ticketing helps them organize visitors and control the flow of people. They also offer group tours (15 to 2,500 people) but require a reservation through [email protected].
Remember that they designed their haunted attractions to scare you, and the attractions aren't suitable for anyone under 13 years old! They offer no refunds for people who feel "too scared." Additionally, tickets are the same price for all attendees, regardless of age. Finally, you must complete their waiver when purchasing a ticket and bring it with you for your visit.
Expectations for The Attractions
This year, their attractions include the SUPER Haunted Trail – a combination of their Trail of Terror and Haunted Trail – and Slaughter Factory Haunted House. All tickets give guests access to both experiences as well as the Carnival Town Games area, where – for a cheap $10 to $15 more – they can play four games including axe throwing. They also offer a great assortment of concessions, including fried Twinkies, fried Oreos, s'mores, burgers, fries, and funnel cakes. It's all the fun food you expect at an event like this!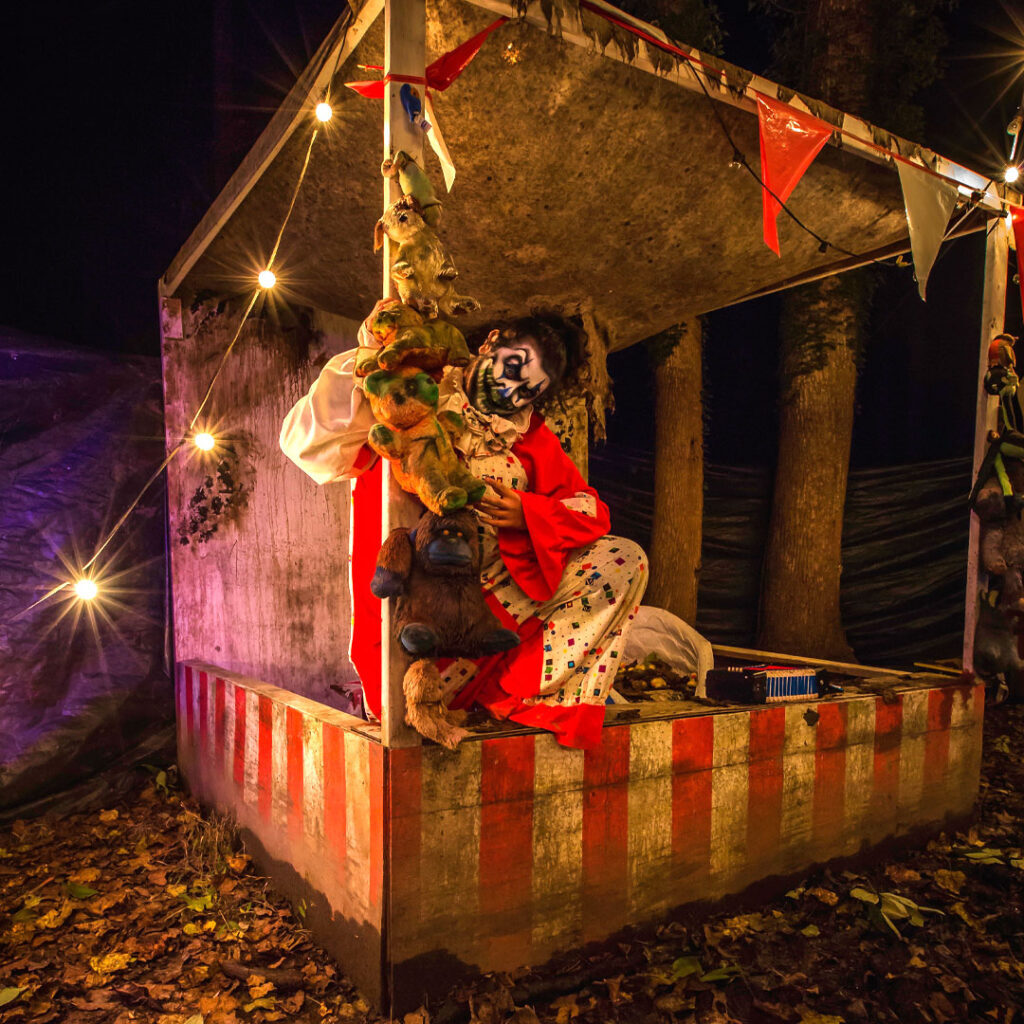 If you're new to Field of Screams Maryland, or haunted attractions altogether, fear not: they have a straightforward layout. After arriving, you'll pass through the Slaughter Factory Haunted House and exit into the compound. There, you can eat, relax by 1 of 20 bonfires, or go to the Carnival Town Games area as long as you like. But their main event, the Super Trail, comes after – prepare to walk through the dark, creature-infested woods for an hour-long screamfest!
Their actors avoid touching attendees as best they can, though the dark environments lead to occasional bumps. Keep in mind that you'll be in low-light settings with people moving around. Also, they use strobe lights, fire effects, fog machines, and more to create good scares. Field of Screams Maryland has actual bathrooms near ticketing where you arrive and large, clean porta potties in the compound if needed.
Appropriate Dress & Age Limit
While the Slaughter Factory attraction takes place largely indoors, the SUPER Haunted Trail and Carnival Games are set outside. Moreover, you may wait outside a few minutes before entering the compound. Fall evenings get cool, so dress for the season and bring an extra jacket, just in case. Shoes are required – no high heels. Rather than dress to impress, you should be comfortable and wear good shoes or boots for outdoor grass and mulch floors. Remove earrings and leave bags and purses in vehicles, as they do not allow them in their attractions.
Field of Screams Maryland has no strict age restrictions. However, keep in mind that they want to scare their visitors, and they use actors, special effects, and make-up to do so. Some pre-teens have a wonderful time. Some adults are terrified and shake their entire visit. Use your discretion and consider whether your children can handle scary situations.
Medical Information
As mentioned above, they've implemented Covid procedures this year for employee and guest safety. To protect those around you, please do not attend their attractions if you have flu-like symptoms. Moreover, all guests must wear a mask inside the Slaughter Factory attraction. And remember that all tickets are sold online, which keeps the experience touchless.
Before completing the mandatory waiver, read through their warnings and health advisories. They ask that anyone with asthma, heart conditions, sensitivity to seizures, broken bones, high blood pressure, pregnancy, or mental health issues refrain from their attractions. Those with sensitivity to strobe lights should be aware that they employ them in their attractions. All visitors must be capable of walking over varied terrain – including a path in the dark – without aids.
Please do not consume drugs or alcohol before entering the compound. Your ticket is revocable – they may take it from belligerent parties and refuse readmission.
Weather Delays
Finally, while they do their best to keep things open during the season, they do close for inclement weather. Guests on those nights will receive passes for another night. However, they give no refunds for any reason.
Haunted House and Trail Attraction Now Open in Maryland!
Complete your season with the best haunted house experience that the region has to offer: Field of Screams Maryland. They've combined their award-winning haunted trails from past years into one SUPER Haunted Trail for an unforgettable experience! Find out why they're the top-rated screampark by The Washington Post and The Baltimore Sun. For more information, call them at (888) 720-1112 or visit their website to purchase your tickets now!