Why You Need to Reserve Field of Screams Maryland Tickets ASAP
Have you heard? Field of Screams Maryland tickets are now available to the public and selling faster than ever before! Reserve your chance to embrace the Halloween spirit and face your fears at their award-winning haunted attractions. Explore the Haunted Trail, Trail of Terror, Slaughter Factory, and more in a bone-chilling forest compound.
Field of Screams Maryland is the perfect Halloween destination for thrill seekers in Bethesda, MD. They take "scary" to the next level with actors, props, and animations that will make your knees shake. Experience your nightmares and worst fears firsthand: book your reservation before they run out! Additionally, keep the Steelhead Productions team's next attraction—Winter City Lights Maryland—in mind for the holiday season. For more ticket and attraction information, contact them online or at (888) 720-1112.
The Super Trail
Why does Field of Screams Maryland sell through all their tickets every year? Their main attraction, the Super Trail, combines two former attractions—the Haunted Trail and the Trail of Terror—into one. Together, these famous trails are not only the most frightening experience in Maryland but also the longest haunted trail in the country! Test your bravery and wits at a haunted attraction unlike any you've ever seen!
The Haunted Trail portion now falls under the moniker Camp Fear, the newest attraction at Field of Screams Maryland. In these woods, a group of 20-year-old campers settled one night, never to return home. Folks say they still roam the forest, searching for help, while their cruel murderers continue chasing them. This 30-minute walk (or run!) features 13 campground stations to explore. Clowns, hillbillies, and butchers wander the long-abandoned playground and bridge. Enter if you dare!
The second Super Trail portion is another 30 minutes of horror: the Trail of Terror. Although "haunted,"  this path crawls with more than plain ghosts and ghouls. At every step, zombies and other evildoers await your anxious arrival. The slant house, skinner shack, and bunkhouse are among the 13 haunted houses dotting the trail. This attraction is not for the faint of heart. Explore these woods at your own risk!
Slaughter Factory
Alongside the Super Trail lies Field of Screams Maryland's Slaughter Factory! Traverse the winding halls of this abandoned plant, echoing the sounds of grinding gears and buzzing chainsaws. A dark, rusty maze of severed limbs and corpses awaits you. However, many not-so-dead frights continue to hide within the hallways and passages. Encounter mutants, butchers, and other threatening creatures on this stomach-churning journey—you just might make it out in one piece!
Carnival Town Games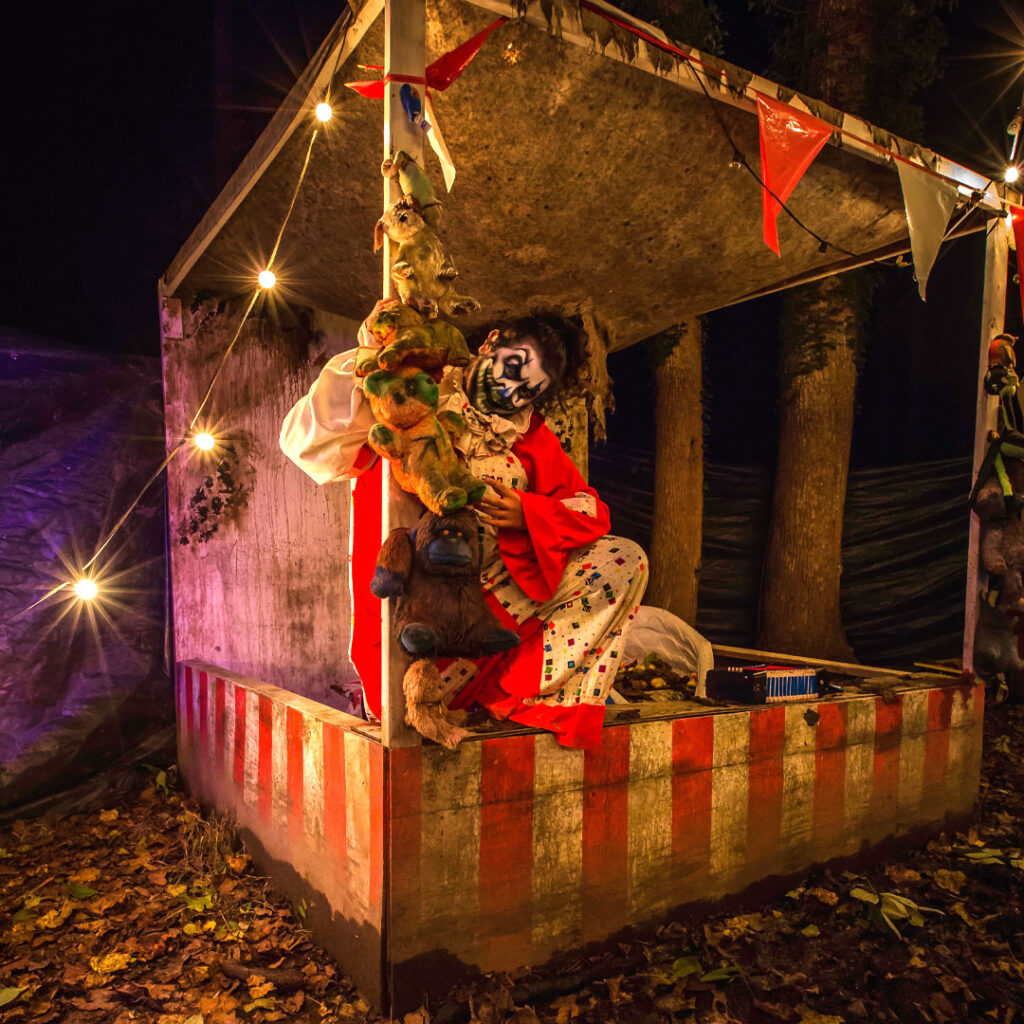 If you need a break from haunts, Field of Screams Maryland also offers its Carnival Town Games. Trail-goers like to spend time on these fun Halloween pastimes between attractions. They're also great for kids and family fun! Our Carnival Town Games feature:
Lizzy Borden Axe Throwing: Throw some bloody axes at brain-eating zombie targets!
Zombie Brain Smash: Slam a hammer to shoot a brain into a zombie skull to get a high score!
Crypt Ring Toss: Toss rings into a vast gallery of moving skeletons and attempt to hook them onto boney arms!
Body Bean Bag Pumpkin Toss: Throw bean bags into the carved mouths of spooky jack-0-lanterns as they open and close!
Explore the Trail of Terror and More Haunted House Attractions in Bethesda, MD
At Field of Screams Maryland, there are spooks and scares for everyone. Visit Bethesda, MD's favorite haunted attractions, including the Haunted Trail, Trail of Terror, Slaughter Factory, and Carnival Town Games. Also, plan for the Steelhead Productions team's next attraction: Winter City Lights Maryland! Reserve your Screams Pass online, and—for any questions—contact them today at (888) 720-1112.